Free Space Optics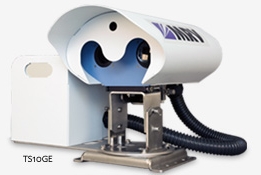 The line-of-sight
TereScope 10GE the industry's first wireless 10 Gigabit Ethernet Free Space Optics system, provides enterprises and service providers with a cost effective and high-bandwidth wireless solution for extending backbone networks between multiple buildings without a need for rights-of-way or a fiber-optic cable plant. The TereScope® TS10GE provides ultra high-speed Free Space Optics (FSO) connectivity. Operating at data rates of 10 Gigabit, TereScope® TS10GE systems are deployable rapidly, providing maximum bandwidth FSO optical wireless connectivity.
High Performance FSO Systems from CommConnect

Canon's new
Canobeam DT-100 Series optical transceivers build on the outstanding functionality of previous models, employing design innovations that contribute to both reduced size and greater cost performance. Featuring a compact optical module which integrates key optical components in one tidy unit and operates protocol independent, like fiber optic cable. The models utilize advanced engineering to realize size and weight reductions of up to 50% from previous models.
The units are available in several fiber or twisted pair configurations, including Multi-mode (MM), Single-mode (SM) or twisted pair (TP).
Fifteen years of Canon's free space optics (FSO) engineering expertise is now available in their new DT-100 Series Canobeam, the highly versatile optical beam transmission system. The fourth generation of Canon's point-to-point optical beam transceivers features:
Built-In Auto Tracking on Three New Models
High speed transmission up to 1.25Gbps
Optimized Size and Weight
Highly Secure Data Link
Protocol independent, like fiber optic cable
No FCC Licensing or Radio Frequency
Sleek design engineered with minimal space requirements.
Affordable Price Without Compromise
The DT-100 Series can withstand temperatures from -20 C to +50 C, wind gusts of up to 134 mph, and features a Weather-hardened outer shell IEC-rated for permanent outdoor use.
Available in several fiber (MM: Multi-mode, SM: Single-mode) configurations. DT-110 and DT-120 also available in twisted pair (TP) configurations.
DT-130 also available in MM and MM/SM configurations
---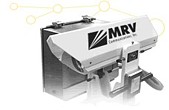 The TereScope™ family of Free Space Optics products provides low-cost, high-speed wireless connectivity in a number of last mile applications. Operating at data rates of 1.5 Mbps to 1,250 Mbps (1.25 Gbps or GigE), TereScope™ solutions provide scalable, wireless alternatives to leased lines. Additionally, TereScope systems can be deployed, on a rooftop or indoors behind a window, in one day, without requiring right-of-way or government permits to install.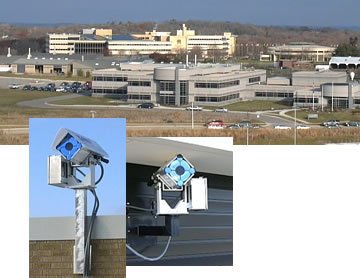 A view from the TereScope TS3000G with GigE or Gigabit (1000+ Mbps) capacity! Allow CommConnect to determine which short-haul, high bandwidth FSO solution is right for your application.
What is FSO?
Free-Space Optics (FSO) is a line-of-sight technology that uses lasers to provide optical bandwidth connections. Currently, FSO is capable of up to 2.5 Gbps of data, voice and video communications through the air, allowing optical connectivity without requiring fiber optic cable or securing spectrum licenses. FSO requires light, which can be focused by using either light emitting diodes (LEDs) or lasers (light amplification by stimulated emission of radiation). The use of lasers is a simple concept similar to optical transmissions using fiber optic cables; the only difference is the medium. Light travels through air faster than it does through glass, so it is fair to classify FSO as optical communications at the speed of light. FSO technology is relatively simple. It's based on connectivity between FSO units, each consisting of an optical transceiver with a laser transmitter and a receiver to provide full duplex (bidirectional) capability. Each FSO unit uses a high-power optical source (i.e. laser), plus a lens that transmits light through the atmosphere to another lens receiving the information. The receiving lens connects to a high-sensitivity receiver via optical fiber. FSO technology requires no spectrum licensing. FSO is easily upgradeable, and its open interfaces support equipment from a variety of vendors, which helps service providers protect their investment in embedded telecommunications infrastructures.
History of FSO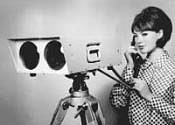 Originally used by the military and NASA, FSO has been used for more than 30 years to provide fast communication links in remote locations. Recent advances in FSO technology have opened up mainstream communications uses, from short-term solutions for short distance network bridges to an attractive and viable alternative for service providers to deliver the promise of all-optical networks. As an optical technology, FSO is a natural extension of the metro optical network core, bringing cost-effective, reliable and fast optical capacity to the network's edge.
 While fiber optic communication has gained acceptance in the telecommunications industry, FSO communication is still relatively new. FSO enables similar bandwidth transmission abilities as fiber optics, using similar optical transmitters and receivers and even enabling WDM-like technologies to operate through free space.