FCC Licensed Wireless Solutions Installed – Wireless Backhaul – Gigabit Wireless
---
Licensed Full / Half Duplex Microwave – IP Ethernet & GigE Point to Point Wireless Solutions
The Benefits – You are guaranteed by law not to get interference. We warranty the bitrate on project installations for one full year. Extra warranties and full redundancy star and ring topologies are available. These are solid, 99.999% uptime, carrier grade, scalable modulation, line of sight technologies. We provide you with the needed FCC radio license for a turnkey project solution.
Standard one-year guarantee on the link performance as engineered
Solutions for mixed data & voice transmission networks
4.9 GHz public safety solutions up to 300 Mbps

CommConnect is a leading supplier and installer of BridgeWave Microwave products. Take advantage of secure FCC licensed 80 GHz radio frequency at GigE and Fast Ethernet speeds with the advantage of add/drop data ports, and optional wire-speed AES encryption built in. BridgeWave is a leader in MMW technology with some models available with advanced 256-AES FIPS certified security.
80 GHz Wireless

BridgeWave Description

Distance

Capacity

Encryption Option

Eagle

Ultra-High Capacity Wireless 80 GHz System for Next Generation Networks

Up to 5 Miles(8.0KM)

Up to 3 Gbps

None

BW80

80 GHz Fast Ethernet extended range wireless bridge

Up to 4 Miles(6.4KM)

125Mbps
Upgrade to Gig-E

None

BW80x

80 GHz Fast Ethernet extended range wireless bridge

Up to 5 Miles(8.0KM)

125Mbps
Upgrade to Gig-E

None

FE80u

80 GHz Fast Ethernet medium range wireless bridge

Up to 5 miles(8 km)

100 Mbps

None

FE80xu

80 GHz Fast Ethernet medium range wireless bridge

Up to 6 miles(9.7 km)

100 Mbps

None

GE80

80 GHz Fast Ethernet medium range wireless bridge

Up to 4 miles(6.4 km)

1000 Mbps

None

GE80x

80 GHz Fast Ethernet medium range wireless bridge

Up to 5 miles(8 km)

1000 Mbps

None

AR80

80 GHz AdaptRate 100/1000 Mbps extended range wireless bridge

Up to 5 miles(8 km)

100/1000 Mbps

AR80x

80 GHz AdaptRate 100/1000 Mbps extended range wireless bridge

Up to 6 miles(9.7 km)

100/1000 Mbps
BridgeWave solutions meet the following stringent regulatory requirements:
Safety: UL Listed, CE Mark, FCC 1.1310 general population RF MPE limits
RF Certifications: U.S. FCC Part 15.255, Industry Canada RSS-210
Other: RoHS, WEEE, ETS 300 489, FIPS certified, JF-12
| | |
| --- | --- |
| |  Eagle The BW-Eagle features a software-defined, proprietary digital modem technology enabling modulation schemes from BPSK to 64QAM, and data throughput upgradeable from 1Gbps to 2Gbps and 3Gbps via simple license keys. Customers seeking even higher capacities can realize 6Gbps full duplex throughput today using a 2+0 BW-Eagle link, thus eliminating the need for future equipment "forklift" upgrades and lowering total cost of ownership. |
| |  FlexPort 80 BridgeWave's FlexPort® platform of high capacity radio systems smoothly enables this transition by carrying both TDM and IP traffic natively without the mandate for pseudowire or other third party devices. With the use of a single radio, operators can combine their 4G backhaul needs with their existing backhaul networks resulting in an extremely cost effective and easy to manage solution. By providing proven reliability and performance, capacity up to 1.5 Gbps over a single RF carrier and operation in the uncluttered 80 GHz band, BridgeWave's "future-proof" FlexPort solution delivers on the promise of cost-effective, scalable backhaul for migration to 4G networks at an operator's own pace. |
|   |  FlexPort uWave BridgeWave's FlexPort® uWave in the 18 GHz and 23 GHz microwave radio systems have been designed specifically to meet the requirements of operators, carriers, and service providers requiring full-rate gigabit connectivity in a single, compact, all-outdoor enclosure. The FlexPort® uWave accomplish this through an innovative approach in aggregating multiple RF channels without the need for additional hardware as with other lower licensed frequency band products. This helps ease installation and maintenance costs on the network by offering only one device to install and manage, providing the user with a highly-reliable, fully integrated backhaul solution. |
*NEW* Introducing the BridgeWave FlexPort® 3000 – An ultra-high capacity 80GHz wireless Ethernet solution installed by CommConnect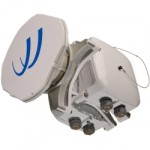 Bridgewave Flexport 3000 Datasheet
The BridgeWave FP80-3000 installation utilizes the innovative FlexPort product platform to provide the highest capacity transmission and fastest wireless bridge solution available at millimeter wave frequencies. The Flexport 3000 yields over the-air transmission rates of 3000 Mbps (2.4 Gbps end user throughput) through the use of two FlexPort80 terminals and an ODU combiner. Frequency agility means both radios can be set to different RF channels, and avoid the use of orthogonal polarization methods while ensuring optimal link availability. CommConnect is a certified BridgeWave partner, and specializes in the most reliable engineering and installation practices in the industry. Allow us to show you the benefit of choosing CommConnect for your wireless needs.
3000 Mbps over-the-air data rate delivering the equivalent of two full-rate gigabit Ethernet plus 400 Mbps Ethernet transmission rates

Efficient spectrum utilization using QPSK

Low latency for fiber-equivalent performance, fastest wireless bridge available.

Forward Error Correction for maximum link range

Frequency agile RF tuning eases network planning and mitigates interference

Carrier Ethernet services enabled through built-in Gigabit Ethernet Layer 2 switch

Optional built-in FIPS certified 256-bit AES encryption
ADVANCED WIRELESS NETWORK SECURITY OPTIONS FOR SELECT BRIDGEWAVE PRODUCTS
BridgeWave's Advanced Security Options add another layer of data protection to BridgeWave's inherently secure wireless links, providing the most secure gigabit wireless solutions available.
Advanced Encryption Standard (AES):

256-bit key length AES – the strongest data encryption available
Full-rate Gigabit or Fast Ethernet performance under all traffic loads
Ultra-low latency – adds only 2 microseconds packet delay
Cipher Block Chaining (128-bit blocks) conceals patterns in plain-text
Meets "Top Secret" security standards
Avoids costly, complex, lower-performing external-box solutions
Includes Secure Management Option to protect symmetric key configuration
Factory hardware option for all AdaptRate products

Secure Management:

Secure (256-bit AES) HTTPS access to network management agent
RADIUS user authentication client (Sep 2007)
Meets US Army IMOD program security requirements
Software field upgrade for all current product models
---


CAMBIUM NETWORKS PTP 800 / 800i / 810 / 810i
Cambium Networks carrier-grade PTP 810 licensed microwave solutions provide reliable, high-capacity connectivity and backhaul for both your Ethernet and TDM applications. The systems operate in radio frequencies between 6 and 38 GHz at scalable Ethernet data rates up to 700 Mbps full duplex. The modular design offers pluggable modem units that support T1/E1, STM-1, and Ethernet on a single platform, giving you great flexibility to configure the best system for your needs at the optimal cost. The systems are available in both Split Mount and All-Indoor (PTP 810i) architectures. PTP 810i All-Indoor solutions provide an optimal solution when tower access is difficult whether due to weather or other inaccessibility. Available in FCC and ICC 6 and 11 GHz authorized bands, these licensed solutions can obtain up to 477 Mbps with XPIC enabled.
The demand to support more multimedia communications and mobility and deliver higher throughputs for bandwidth intensive applications is growing exponentially. Now operators can leverage their legacy investment while taking advantage of the cost efficiencies and performance benefits of packet-based Ethernet technology. Service providers, public safety and government agencies, heavy industry such as utilities and transportation, and other enterprises will find PTP 810 an optimal solution for making this migration. Capital expenditures and operating expenses can be reduced to support a number of applications including:
Leased Line Replacement
Building to Building and Campus Connectivity
Network Redundancy
Wireless Network Extensions
Video Surveillance

Cambium PTP 800 Line Brochure

Cambium PTP 810 Specifications

Cambium PTP 800 7 / 8 GHz for Federal Networks

Cambium PTP 810i All Indoor

Cambium PTP 800i All Indoor
EXTREME DURABILITY: CommConnect has been installing PTP systems since the company was founded as Orthogon Systems. They've proven to exceed top tier reliability. These systems have logged more than two billion field hours. From Orthogon to Motorola to Cambium, these radios are proven to withstand the rigors of outdoor use. Systems sustain and perform steadfastly in winds up to 150 miles per hour (242 kph) and temperatures from -27° to 131° F (-33° to 55° C)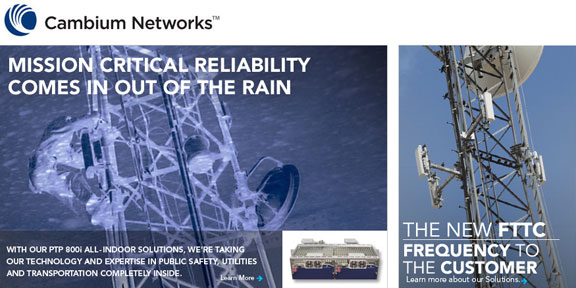 ---

The
FibeAir IP-10C is Ceragon's next generation carrier-grade wireless Ethernet solutions family. With up to 1 Gbps per radio carrier and combining IP and TDM networking, FibeAir IP-10 offers risk-free migration with the highest possible capacities at the lowest overall cost – addressing any deployment scenario.
TDM & Ethernet interfaces
Modular nodal architecture
Integrated TDM cross-connect
Integrated Ethernet switch
10-500 Mbps to 1 Gbps per radio carrier
10-80 MHz channel bandwidth
6-38 GHz licensed frequency
Highest spectral efficiency
Adaptive Coding & Modulation (ACM)
Native Ethernet and TDM (Native)
Seamless scalability
MEF-9 & MEF-14 certified
Introducing the Ceragon FibeAir IP-20C – Available now at CommConnect!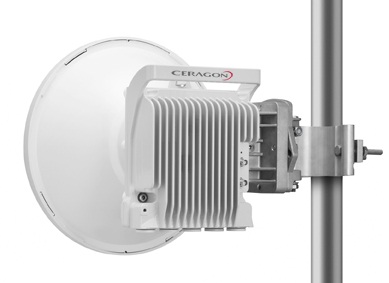 Multi-Core, Software-Defined Radio Technology Delivering Multi-Gbps Anywhere
FibeAir IP-20C sets a new standard in microwave transmission combining multi-core radio technology, 2048 QAM modulation and line-of-sight 4×4 MIMO in a compact, green, all-outdoor design. It enables operators to reach capacities that quadruple those of existing solutions.
Ceragon FibeAir IP-20C Brochure / PDF
---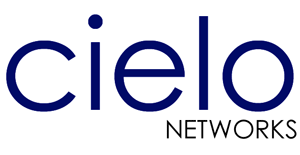 Cielo SkyLink 6-39 GHz Microwave Solutions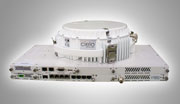 Cielo Networks SkyLink CG  point-to-point microwave radios are available in all FCC/NTIA & ETSI licensed bands from 6 to 39 GHz. SkyLink terminals have a "split mount" configuration with an Outdoor Unit (ODU) mounted directly to the antenna, an Indoor Unit (IDU) mounted inside a structure or outdoor weatherproof cabinet, and a single inexpensive coaxial cable connecting those units. The SkyLink system uses advanced software defined radio technology to optimize link bandwidth scalability, payload interface options, RF operating parameter flexibility, and in-service QOS. Specifically, SkyLink terminals are software key configurable for capacities ranging from 20 Mbps to 600 Mbps. Set capacity is modularly allocated to Fast Ethernet and/or Gigabit Ethernet IP ports, TDM circuits from 2 x T1/E1 to 63 x T1/E1 and/or 1 x OC-3/STM-1 to 2 x OC-3/STM-1, and a variety of IP + TDM modes. 1+1 hot standby (HSB) & 2+0 E/W & E/E configurations are also supported.
SKYLINK CG COMPACT SPLIT MOUNT SYSTEM
Commconnect partners with Cielo Networks to provide disaster recovery solution in less than 72 hours:
https://www.cielonetworks.com/site/testimonials/82-commconnect-llc.html
---
*NEW* Horizon Harmony Converged Packet Microwave
The
Dragonwave Horizon Harmony split-mount system achieves significant efficiencies by converging TDM, ATM, Frame Relay, IP and Ethernet traffic onto a single packet-based transport layer and a single management plane. This results in simplified operations, reduced capital cost and significant savings in total cost of ownership; all while meeting the most stringent network requirements for highly time-sensitive applications.
Horizon Quantum
With 2 to 4 Gbps per link,
Dragonwave Horizon Quantum delivers the next generation in packet microwave technology. Quantum is a step change in capacity, nodal intelligence, spectral efficiency and operational simplicity; all while occupying only half a rack unit and consuming the lowest power per bit of any solution today. As a result, operators can stay thin in the air and in the rack as they launch new IP-based services. As the next evolution of DragonWave's split-mount radio, Quantum offers a seamless upgrade path for existing Duo and AirPair deployments.
Horizon Compact Wireless Ethernet

The road to wireless Ethernet is faster than you think. The
Dragonwave Horizon Compact offers service providers a resilient, high performance backhaul network solution. At 800 Mbps, Horizon Compact next-generation, Ethernet microwave transmission system offers unparalleled capacity and reliability for today with the built-in flexibility and scalability service providers need for the future.
*Commconnect services and supports all existing Dragonwave deployments, including AirPair 50, 100, and 200 systems.
---
Exalt ExtremeAir™ Licensed FCC 11–23 GHz Systems
"Fiber-Speed Microwave Systems for Ring, Aggregation and Core Applications"
ExtremeAir all-outdoor radios are the world's first ultra-high capacity dual-carrier, zero footprint microwave systems. Capable of operation in the 11 – 23 GHz bands, ExtremeAir is designed to deliver guaranteed full-duplex Ethernet throughput as high as 1000 Mbps over a distance of 24 miles. These all-outdoor microwave systems are rugged, XPIC-enabled, tower-mounted radios requiring no cabinet space. ExtremeAir provides a true line speed, low cost alternative to fiber for high capacity ring, aggregation and core applications in LTE, WiMAX and wireline service provider networks as well as campus connectivity and video surveillance applications in enterprise and government networks.
Commconnect carries and supports all Exalt Extreme Air Models, including:
rc11200 / rc11205 / rc11220 / rc11230 / rc11210
rc18200 / rc18205 / rc18220 / rc18230 / rc18210
rc23200 / rc23205 / rc23220 / rc23230 / rc23210
More Backhaul Solutions from Exalt
ExtendAir eMIMO – NodeX – ExpandAir
Exalt Introduces ExtendAir G2
Up to 370 Mbps, Lowest Cost Per-Bit
---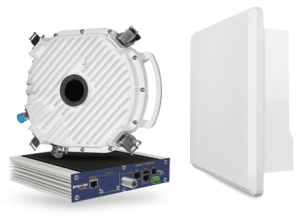 Proxim's wireless backhaul solutions provide many of the industry's most reliable, secure, and easily-deployed solutions for interconnecting corporate and telecommunications networks.
Proxim Point to Point Wireless Product Guide & Datasheet
Wireless Network Diagram Featuring Point to Point Connections