Unlicensed Microwave Data Communications
---

CommConnect is a leading supplier and installer of BridgeWave Microwave products. BridgeWave 60 GHz wireless Ethernet / IP bridges provide wireless gigabit performance with robust wireless network security features. BridgeWave wireless bridges offer a cost-effective alternative to fiber-based network solutions for metro Ethernet applications.

BridgeWave AR60 / AR60x Datasheet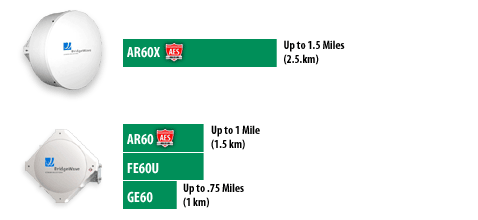 BridgeWave FE60U Datasheet
KEY FEATURES OF 60 GHZ WIRELESS POINT-TO-POINT BRIDGES
Performance:
License-free operation in the U.S. and Canada
Highly secure, narrow antenna beamwidths
Interference-free operation, enabling high-density deployments
Full rate, full duplex, Gigabit or Fast Ethernet
AdaptRate™ and AdaptPath™ switching overcomes rain fades
Low latency for fiber-equivalent performance
Forward Error Correction yields maximum link range
Add/Drop Ports
Reliability:
Rigorous HALT/HASS testing
Up to 99.999% availability; 28-Year MTBF
Ease-of-Use:
Connects directly to standard network equipment
All-outdoor, compact design
Low voltage power cabling
Rapid & flexible deployment
Embedded web and SNMP based network
management agent
 Regulatory Compliance:
Safety: UL Listed, CE Mark, FCC 1.1310 general population RF MPE limits
RF Certifications: U.S. FCC Part 15.255, Industry Canada RSS-210
Other: RoHS, WEEE, ETS 300 489, FIPS certified, JF-12
---
ADVANCED WIRELESS NETWORK SECURITY OPTIONS FOR 60 GHZ WIRELESS BRIGDES
BridgeWave's Advanced Security Options add another layer of data protection to BridgeWave's inherently secure wireless links, providing the most secure gigabit wireless solutions available.
BridgeWave's Advanced Security Datasheet
Advanced Encryption Standard (AES):
Available on AR60 and AR60Xmodels.

256-bit key length AES – the strongest data encryption available
Full-rate Gigabit or Fast Ethernet performance under all traffic loads
Ultra-low latency – adds only 2 microseconds packet delay
Cipher Block Chaining (128-bit blocks) conceals patterns in plain-text
Meets "Top Secret" security standards
Avoids costly, complex, lower-performing external-box solutions
Includes Secure Management Option to protect symmetric key configuration
Factory hardware option for all AdaptRate products

AR60 & AR60X

Secure Management:

Secure (256-bit AES) HTTPS access to network management agent
RADIUS user authentication client
Meets US Army IMOD program security requirements
Software field upgrade for all current product models
---

Motorola Solutions 2.5 4.5 5.4, and 5.8 GHz wireless Ethernet bridges provide more range and speed in difficult environments, delivering carrier grade reliability. PTP 600 links have class-leading sensitivity and power output which enable the links to go farther regardless of conditions. With data rates up to 300 Mbps, this series of wireless bridges provide throughput connectivity in some of the most challenging environments.
Motorola 600 PTP Series
Point-to-Point wireless Ethernet bridges operating in the 2.5, 4.5, 5.4 and 5.8 GHz bands at speeds up to 300 Mbps. FIPS 140-2 Certified.
Motorola 500 PTP Series
Point-to-Point wireless Ethernet bridges operating in the 5.4 and 5.8 GHz bands at speeds up to 105 Mbps.
Motorola 400 PTP Series* (discontinued)
Point-to-Point wireless Ethernet bridges operating in the 4.9, 5.4 and 5.8 GHz bands at speeds up to 43 Mbps.*CommConnect supports all legacy Motorola & Orthogon PTP solutions.
Motorola 300 PTP Series
Point-to-Point wireless Ethernet bridges operating in the 5.4 and 5.8 GHz bands at speeds up to 25 Mbps.
---
Cambium Networks' Point to Point (PTP) radio solutions are providing award-winning network performance in licensed, unlicensed and defined use frequency bands. These include specific FIPS 140-2 solutions for the U.S. Federal market. Based on breakthrough Orthogonal Frequency Division Multiplexing (OFDM) technology, Cambium Networks' PTP solutions deliver exceptional near-line-of-sight (nLOS) and non-line-of-sight (NLOS) coverage in locations where foliage, tall buildings or other obstructions limit wireless broadband access. Our PTP solutions are ruggedized for 99.999% reliability to deliver exceptional performance at the most extreme temperatures and under the most difficult weather conditions. Our PTP networks deliver the speeds to support today's in-demand bandwidth-intensive solutions, including high-speed residential and business access, streaming video and VoIP.
Cambium Networks nLOS and NLOS PTP Product Portfolio
| | | | |
| --- | --- | --- | --- |
| Spectrum | Unlicensed | Unlicensed | Licensed & Unlicensed |
| Model | PTP 300 | PTP500 | PTP 600 |
| | | | |
| Design Focus | High Performance | High Performance | High Performance |
| Useable Throughput | 25 Mbps | 105 Mbps | 300 Mbps |
| | | | |
| Key Features | Orthogon IDFS | Orthogon IDFS | Orthogon IDFS |
| | Adaptive Modulation | Adaptive Modulation | Adaptive Modulation |
| | PTP Synch | PTP Synch | PTP Synch |
| | T1/E1 | T1/E1 | 2 x T1/E1 |
| | | | FIPS Secure |
*Motorola Solutions is now Cambium Networks
---

RADWIN 2000
Ultra-Capacity Point-to-Point Radios

RADWIN 2000 is a comprehensive portfolio of Point-to-Point wireless radios.
The RADWIN 2000 radios deliver high-capacity, long-range connectivity at the industry's most competitive prices, and comply with worldwide regulations and industry standards. Compact and robust, RADWIN 2000 products provide Ethernet and native TDM (up to 16 E1s/T1s), thus enabling seamless migration from TDM to all-IP networks. They are deployed globally by leading cellular carriers and service providers as well as public and private networks.
The RADWIN 2000 portfolio is made up of different product lines, each offering different throughput, power, frequencies, as well as specialized features to fit the exact needs of each customer.
RADWIN 2000 product lines include:
RADWIN 2000 C-Series – Delivering up to 200 Mbps net aggregate throughput and up to 16 E1s/T1s.
RADWIN 2000 B-Series – Delivering up to 50 Mbps net aggregate throughput and up to 16 E1s/T1s.
RADWIN 2000 A-Series – Delivering up to 25 Mbps net aggregate throughput and up to 4 E1s/T1s.
Radwin 2000 Product Portfolio
Radwin 2000 for Public Safety
Radwin 2000 Technology Background
WinLink 1000 by RADWIN
Durable, Robust Solutions for All Environments
WinLink 1000 is a portfolio of telco-grade products that provide unprecedented price and performance value.
WinLink 1000 Point-to-Point radio links pack native TDM and Ethernet into one platform, delivering a high capacity of up to 22 Mbps. The radios incorporate the latest technologies and extensive networking capabilities, and are extremely simple to install and easy to maintain, thus sharply minimizing operating costs. Keeping CAPEX and OPEX low, WinLink 1000 solutions enable operators to expand their networks quickly while maintaining profitability.
WinLink 1000 solutions can be deployed in various topologies, including Star, Mesh or Ring formation; a Ring topology ensures maximum service availability in case of equipment failure or link drop.
22 Mbps full duplex net throughput
Up to 80 Km/50 miles
Native TDM & Ethernet over a single wireless link (up to 4 E1s/T1s)
Long range – up to 80 km/50 miles
Supporting a variety of frequencies: 2.3-2.9 GHz and 4.9-6.0 GHz
OFDM technology enables operation in nLOS environments
Simple to install; up and running in less than one hour
Excellent price/performance value
WinLink_1000_Product_Overview
---
Solectek SkyWay 250 Series 5GHz PTP Wireless Solution
CommConnect is proud to offer the latest point-to-point wireless bridge solution from Solectek. The SkyWay 250 series is a cost effective, industry leading, unlicensed 5GHz radio system. The bridge offers a wide spectrum; allowing for low-risk and high performance in unlicensed deployment scenarios. With 2×2 MIMO OFDM radio technology (dual polarity antennas), 128-bit AES built-in, and throughput speeds up to 250 Mbps, these radios offer industry leading bandwidth combined with best in class security and reliability. The SkyWay 250 is ideal for rapid deployment, disaster recovery, and as a long term fixed wireless solution for all high bandwidth, broadband backhaul applications.

SkyWay-XL250 Series
5 GHZ 250MBPS 2X2 MIMO PTP KIT
KEY FEATURES:
• 2×2 MIMO OFDM Radio Technology
• 250 Mbps Actual Throughput for large bandwidth applications.
• High radio output power (400mW, 26 dBm) – extended coverage.
• Optimized for long distance connectivity
• Gigabit Ethernet Port
• Adaptive Coding and Modulation (ACM)
• Built-in Spectrum Analyzer
• Audio Tone Antenna Alignment Tool
• Wide Frequency range from 4.90 to 6.0 GHz.
• HyperARQtm — Preserve system performance out to long distance
SkyWay XL250 Datasheet